2017-2018 Heating Season
We are pleased to announce our negotiated program with Irving Energy for the 2017-2018 Heating Season. Irving has again offered both flexible AND locked in pricing programs for Fuel Club Members as well as a continuous 12 month discounted pricing (June 1 – May 31).
The Fuel Club has requested this pricing from Irving for many years, as we feel that this provides members the best protection against Hedge Funds and Market Manipulators (whose sole goal is to extract extra $cost$ from the public consumers).
Flexible Pricing---Fuel Club Recommends
Your price is calculated by (Rack price + Irving's fixed adder) on the day of delivery. As the rack price changes, so will yours. You can set up a budget for 12 months starting in June or simply use a Net-30 program and pay as fuel is delivered within 30 days.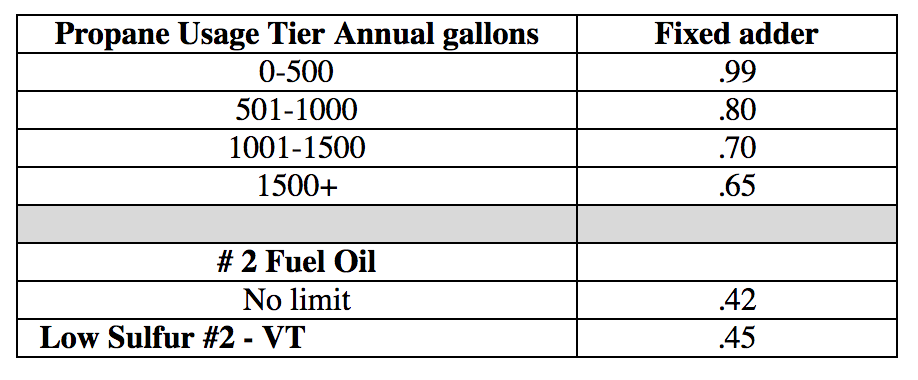 Program Options
If you choose the Net-30 program for oil or propane you do not need to do anything further. This is the default program for our members and we have notified Irving with your name and account numbers for this program. Simply pay within 30 days of fuel delivery.
If you choose a Budget Program for oil or propane: See MyAccount program below.
Computer challenged? Simply call Irving to establish your budget program or a pre-buy contract (between June 1, 2017 –October 31, 2017) and request a Fuel Agreement sent to you with Fuel Club negotiated pricing discounts off from Irving Energy's daily posted fixed credit price for oil or propane. (Pre-buy, budget and net- 30 Available) Irving Energy 1-888-310-1924
Irving and My Account
We have negotiated the program for you! All you need to do is check the prices and take advantage of the negotiated program that suits you best! Better yet, you can now access your account with Irving online, 24 hours a day, 7 days a week with MyAccount! If you're not already a member of MyAccount, set up is easy. Just click on the link to myaccount.irvingenergy.com and follow the online instructions.
We strongly recommend the flexible pricing but understand some may prefer to lock their price in or pre-buy a certain number of gallons. Our negotiation efforts have successfully allowed all options to be available for you this year!
We have also been successful in extending the typical 9-month discounted price program through Irving to a full 12 months! Those who prefer a budget program will now be able to extend their repayment period as well as take advantage of the flexible pricing at the same time! A Deal indeed!
Instead of mailing contracts out, Irving is introducing MyAccount this year. With Irving's MyAccount, it's easy to manage your Irving home heating fuel account online. And we have already done the negotiating for you! With MyAccount you can:
-- View Negotiated Fuel Club Daily Prices ~ the Flexible Pricing Program
-- Enroll in a Fuel Club negotiated Irving price protection program with multiple Payment term options…Pre-buy, budget & net-30 for Fuel Club members
-- You can enroll in the Negotiated Fixed Fuel Club Discounted Price Protection offers for Oil or Propane **
-- Set up your Budget program: which are now available for a longer repayment period, lowering your monthly expenses.
-- View your current price protection program status
-- Check your account status
-- View your payment history
-- View your delivery history
-- Make a payment on-line with a credit card
**Fixed price offers will be viewable online and you can enroll anytime between now and October 31, 2017. Check the daily prices online and when you are satisfied, secure your gallons at that price. Take note that when your gallons have been delivered, you will revert back to the negotiated flexible pricing program through the remainder of the year. A double win!
All Fuel Club Member pricing eligibility requires confirmation from the Fuel Club Manager. Irving and the Fuel Club will be communicating about new and renewing members.